Kerabu a type of Malaysian salad comes in many different types most of which have the distinct tangy and spicy kick. This dish I dare say is quite an iconic south east asian dish where the fusion of herbs and spices are quite common.

This dish is quite an appetiser and will make you salivate just by looking at it; really simple dish to prepare and is bursting with flavours.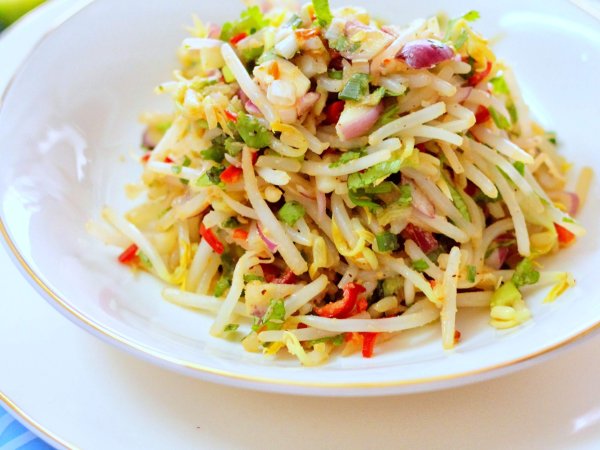 Ingredients :
Handful of vermicelli
Handful of roasted peanuts (crushed and mixed 2 tsp of sugar)
250g Cooked shrimps
1 bag of jelly fish
1 medium sized chilli – roughly cut
3 stalks of mint, cut fine leaves only
Juice of 1 lime
2 stalks of lemon grass (cut fine white parts only)
1 tbs of fish sauce
1 tsp five spice powder
How To Make :
Soaked vermicelli in luke-warm water until moderately soft. Then immediately shock the vermicelli in ice cold water for a good 2 minutes. Drain vermicelli and allow to dry on kitchen towel. Set aside
Now mix all your ingredients in a salad bowl
Serve. Can't get more simple than that isn't it?